Welcome to the Republic of Malabar Science Center Virtual Tour
Captured on March 8, 2002 Courtesy of his Majesty, The Honorable High Lord of Space-Time, Prof Don
Click her for alternate tour music (2MB!)
The Animal Behavior Research Center is located near the restaurant. Note that we do not use live animals in our experiments with nicotine or caffeine, only small children.
Experience gravitation at our simulator, even when the Chip is down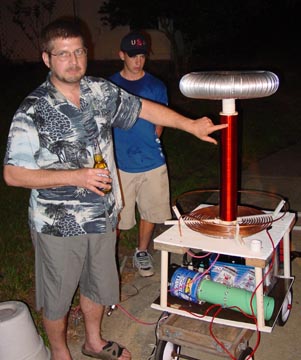 Professor Don explains where to stick your tongue to promote hair growth and regain that youthful feeling (notice satisfied customer in background).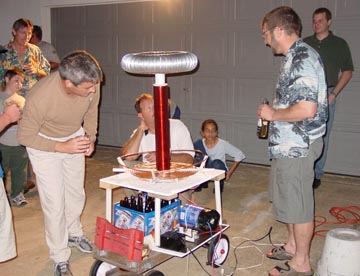 Hmmm...maybe this could save the company? All we need are some marketing requirements, factories on three continents, and some stock options!
The time-dilation anti-gravity photo-torpedo experiment is a success!
Bug zapping is our main source of revenue while we wait for the IPO.
We're also exploring the market for quantum electro-dynamic jewelry.
Hey! Be careful where you point that thing! The sky is over there, ±90° behind ya'll in azimuth.
Hope you enjoyed the tour! (Thanks Don!)