"Gulf Streamer"
Daytona to Charleston Race, May 23-25, 2008
Congratulations Chasing Rainbows for 3rd Place Overall
Roughly the course (black line), over 240 miles in 41 hours:
Chasing Rainbows docked at the Daytona Beach Yacht Club the night before the race. The day of the race, we motored from Daytona Beach YC on the Indian River to the starting line just outside Ponce Inlet. We passed "Bird Island" on the way to the Inlet.
Along the way, we passed a fishing boat that's on fire...an omen?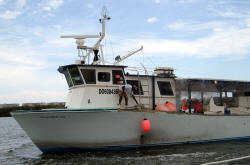 We encountered shallows while passing from the Indian River Lagoon into Ponce Inlet. Fellow racer "Finally" leads the way: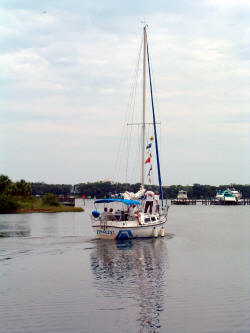 Finally, we find the race committee at starting line just outside Ponce Inlet
First mark of the course is the Daytona Beach Pier at dusk
After being becalmed in an eerie night of blazing lightening storms, we enjoyed the wet morning wind
Finally, we made it to the deep blue Gulf Stream!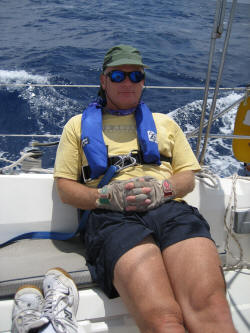 Freshening North wind means a "lumpy" night ahead...click HERE to see a short video
A seabird (Shearwater?) joined us that night as we exited the stream. Winds were approaching 30knts and seas were at least 8ft, so no wonder the creature wanted sanctuary. It even talked to us while we navigated.
Thank God for a safe delivery from the ragging Gulf Stream!
Finally, arriving in Charleston, sleep deprived and thirsty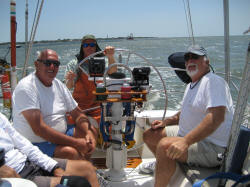 Awards: 3rd place overall...second only to a pair of deep keel J-boats (if you want to win this race, buy a bigger J-boat!)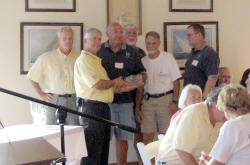 After a long sail and a good party, you can sleep just about anywhere!
Click HERE for the Captain's Log
Many thanks to Capt Del Wiese for providing several of these photos!